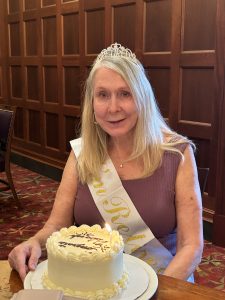 One of ZAI's longest-tenured employees has officially retired. Former Vice President of Finance Deborah Mangan's last day of work was June 30, 2023—almost 31 years after her first day in 1992. Technically, though, it's been closer to 35 years as she worked as a consultant to ZAI for several years prior to becoming a full-time employee!
A ZAI remote/telework pioneer, she performed her job from coastal South Carolina since 1996, when she moved there with her husband, Jack. Thus, it was not an adjustment for her when the pandemic hit—she just kept on doing what she'd been doing successfully for years.
Deborah's job revolved around numbers—company financials, charge codes, proposal pricing, etc. No matter what numbers she was crunching, she was meticulous. There are very few proposals ZAI has submitted over the past couple of decades that Deborah didn't have a hand in pricing.
In her personal life, she and her husband took up shag dancing when they moved to SC. (According to the Internet, Carolina Shag is a type of partner dance done primarily to beach music.) They find shag dancing very fun and have met many friends through the pastime.
Retirement will provide Deborah with more time for some of her other favorite pastimes—walking on the beach, reading, and spending time with her family.
ZAI thanks Deborah for her years of service and dedication—and for sharing her infamous chocolate martini recipe with a lucky few. We will certainly miss her. Congratulations to Deborah on her well-deserved retirement!